Be sure to check out her blog on the details and to sign up for this fun challenge!
The New Year is all about trying new things & I thought this would be fun to attempt to do!
I am copying her rules & etc for this challenge.
How it works:
Fulfill the task within the box to be able to mark it off. There are three levels of participation: beginner, intermediate and expert.

Beginner: Try and complete one line of BINGO.
Intermediate: Complete the entire outside box.
Expert: Fill every single square!

There are a total of 45 squares and each features a very different task. Try to fill in as many as you can! Remember, this is not a challenge and not a competition! The aim is to challenge yourself to read more and read widely, not to see who can complete the most.

At the end of the year there will be a wrap up post, which will go live on December 10th. This will give you the chance to link your wrap up posts and see which tasks others have completed.

There will also be a giveaway for 2 major prizes. The first being up to $30 AUD in value for a book or books of your choice from the Book Depository (open internationally). The second prize is open to Australian residents only (sorry!) and is $30 in value for a gift card or voucher of your choice. This may include Dymocks, iTunes, Amazon, etc.
Here is the bingo card!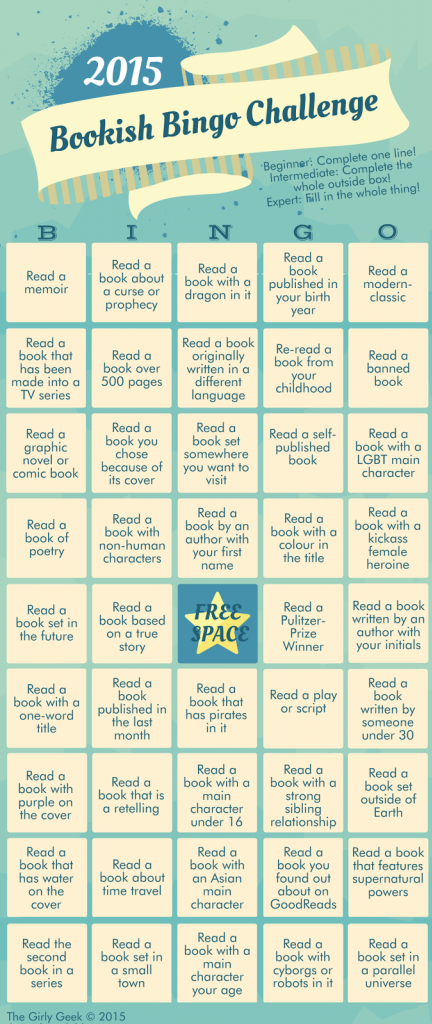 Now I haven't decided yet which line of Bingo I am attempting quite yet. There are a ton of squares on here that I know I will def. read this year but I'd thought I would do a post a little later to update you on my progress!
I hope you guys join in on this fun challenge!
I hope to get a line of Bingo or more!