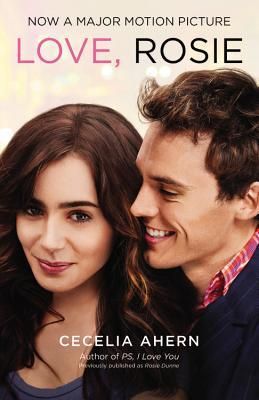 Love, Rosie by Cecelia Ahern
Published: 2004 by Hachette Books
Genre: Adult, Chick Lit
Pages: 448
More:
Buy The Book
-
Goodreads
What happens when two people who are meant to be together can't seem to get it right?

Rosie and Alex are destined for each other, and everyone seems to know it but them. Best friends since childhood, they are separated as teenagers when Alex and his family relocate from Dublin to Boston.

Like two ships always passing in the night, Rosie and Alex stay friends, and though years pass, the two remain firmly attached via emails and letters. Heartbroken, they learn to live without each other. But destiny is a funny thing, and in this novel of several missed opportunities, Rosie and Alex learn that fate isn't quite done with them yet.
In the chick lit world, Ahern's name is one of the top. I've never read one of her books before & when I saw the trailer for the movie based on this book I knew I had to read it! I know P.S I Love You was also made into a movie which I watched and literally cried my eyes out during the whole movie!
I really enjoyed this book. Alex and Rosie are both very likable characters who just can't seem to get it right it seems! Once you begin the book you can clearly see how meant to be they are for one other, I mean it's so obvious!
What I really liked about this book is that it's all told in letter, email and IM format. I haven't read to many books like that so it was very interesting!
Rosie is a great character. She is steadfast, stubborn and driven much like myself I might say. Alex is reliable and such a good friend! And have I mentioned how meant to be they are for one another?
This book takes place over many, many years! The book begins I believe when Alex and Rosie first become best friends, which I think is around age 7 and follows their lifes until the age of 50. Talk about alot to cover!
Throughout the course of Alex and Rosie's live they constantly fail at telling each other their true feelings. Either something or someone gets in the way or time just escapes them. I loved all the supporting characters in the novel from Rosie's family to her other best friend, Ruby.
As much as I adore this book I knocked a star off of it because I thought it was just insane that Rosie and Alex couldn't just fess up on how they felt. Years and years pass by for them with all these feelings bubbling inside and they just can't come out and say it! So frustrating!
Other than that this is an adorable book! Full of laughs, life lessons and of course love.
I won't spoil the ending on whether Alex & Rosie and if they ever get it right, you'll just have to read for yourself!
I can't wait to see the movie in a couple weeks and review it for you guys!
Favorite Quotes from the book:
"Our life is made up of time; our days are measured in hours, our pay measured by those hours, our knowledge is measured by years. We grab a few quick minutes in our busy day to have a coffee break. We rush back to our desks, we watch the clock, we live by appointments. And yet your time eventually runs out and you wonder in your heart of hearts if those seconds, minutes, hours, days, weeks, months, years and decades were being spent the best way they possibly could. In other words, if you could change anything, would you?"
" I've learned that home isn't a place, it's a feeling."