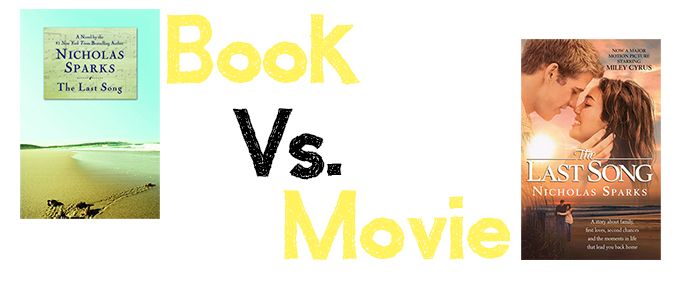 Today we are talking about The Last Song by Nicholas Sparks.
If your familiar with Spark's works you know pretty much all his books eventually become movies.
I've read/watched a good majority of them but I picked this one in particlar.
Let's break it down.
The plot of The Last Song:
Seventeen year-old Veronica "Ronnie" Miller's life was turned upside-down when her parents divorced and her father moved from New York City to Wilmington, North Carolina. Three years later, she remains angry and alienated from her parents, especially her father… until her mother decides it would be in everyone's best interest if she spent the summer in Wilmington with him.

Ronnie's father, a former concert pianist and teacher, is living a quiet life in the beach town, immersed in creating a work of art that will become the centerpiece of a local church. The tale that unfolds is an unforgettable story about love in its myriad forms – first love, the love between parents and children – that demonstrates, as only a Nicholas Sparks novel can, the many ways that deeply felt relationships can break our hearts… and heal them.
I have a love/hate relationship with Nicholas Sparks. I think he writes well but I feel like all of his books end in the same way- tragic somehow.
Either someone dies or they don't end up together or something else, it's always something it seems.
Now not all of his books end sad but a good majority of them do.
That's not to say I didn't enjoy The Last Song, I did, I actually loved it. It's probably one of my favorites of his so I was excited for the movie....which I didn't love.
It was ok.
It may be just me but I'm not a huge fan of Miley Cryus, I just don't really enjoy any movie she's in. Greg Kinnear was in the movie which was a beacon of light because I just love that man, so talented!
I just didn't enjoy the movie all that much.
I felt like Miley didn't portray Ronnie all that well. It felt bland and just boring in my opinion.
I loved the book because of all the character development with Ronnie. She starts somewhat out a brat and really hating her father to maturing and learning how to love.
I didn't feel that in the movie.
I've learned with Spark's book to movie adaptations I always like the book way better.
I think the only two Spark's movies I like are The Notebook and A Walk to Remember (which still to this day I can't watch either without sobbing like a baby).
So in this round
Book wins over movie.
What did you think about the book to movie adaptation of The Last Song?