A friend of mine on the booktube community, Emily (links to her below!) reached out to me awhile ago asking if she could make me a custom bookmark and of course I said 'heck yes!'.
She recently started up an Etsy shop where she makes bookmarks. You can either buy one of her premade ones or you can fill out a form that asks you about your interests and etc and she will custom make you one!
My bookmark came in the mail awhile ago & I am just now getting around to bragging about it. Hey my life is dictated by a 2 month old so that's my excuse for waiting this long!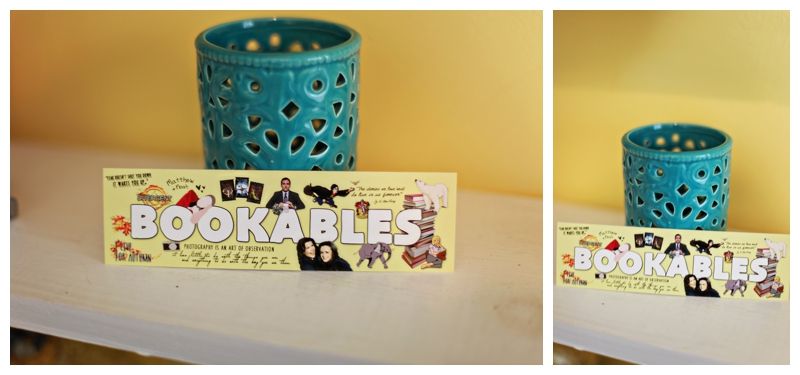 All of you should seriously buy her bookmarks!
I love mine! Yes it is a bookmark but my track record with bookmarks is awful ( lose them, tear them, misplace them) so I decided not to use it as a bookmark. It has it's own little special place on my bookshelf & I love looking at it!
So as I said, you fill out a form & she customizes your bookmark to what you like! Let's take a deep look at mine!
So we have a yellow background ( my favorite color at the moment) & of course my booktube name, Bookables.
Now we get to the fun stuff!
Starting from the bottom left there are some fall leaves and a saying that says 'I live for autumn' which is so true! I seriously love fall a ton!
Above that is a quote from one of my favorite books ever, Divergent that reads 'Fear doesn't shut you down, it wakes you up' that my fictional husband, Four said in the book.
Next to that is an animated photo that a
friend on twitter
made me as a kind gift!
The photo is of my husband & son & I adore it so!
Next to that is a photo of another one of my favorite trilogy's, The Darkest Minds.
Below that is a photo of camera and a quote
'Photography is an art of observation. It has little to do with the things you see and everything
to do with the way you see them.'
If you guys didn't know already, other than doing booktube I am a photographer.
I photograph primarily weddings but also shoot engagements, families, newborns and etc.
Next to that is a photo of my favorite T.V show, Gilmore Girls. Seriously go marathon it on Netflix now!
Above that is another photo of my other favorite T.V show, The Office.
Seriously, Netflix is calling you now.
Next to that is a couple photos from my all time favorite book, Harry Potter.
Then 2 photos of some of my favorite animals, polar bears and elephants!
Then to end it is a photo of books and a girl that looks like me reading!
So in short,
I LOVE MY BOOKMARK!
Emily is such a talented artist!
I highly advise you to buy one of her bookmarks today!

Seriously, go do it! She's amazing!
Her links are below!

Emily's Links:

Emily's Etsy Shop: https://www.etsy.com/shop/SimplyEmilysDesigns?ref=l2-shopheader-name

Twitter: https://twitter.com/simplyemmalee
https://twitter.com/simplyemdesigns

Her Booktube Channel: https://www.youtube.com/user/xObsessedReaderx?feature=mhee