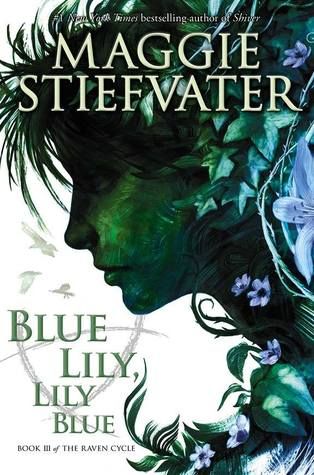 Blue Lily, Lily Blue

by Maggie Stiefvater
Series: The Raven Cycle #3
Published by
Scholastic Press
on October 21, 2014
Genres: Paranormal, Fantasy
Pages: 391
Source: Buy the Book • Goodreads
Blue Sargent has found things. For the first time in her life, she has friends she can trust, a group to which she can belong. The Raven Boys have taken her in as one of their own. Their problems have become hers, and her problems have become theirs.

The trick with found things though, is how easily they can be lost.

Friends can betray.
Mothers can disappear.
Visions can mislead.
Certainties can unravel
I am a huge fan of this series. I loved the first book but it took me awhile to get into. The first 100 pages are a bear to get there but once you get past them you are rewarded with an amazing book!
The Raven Cycle is like no other series I've read before. It's a mixture of paranormal with fantasy and it's just a weird book but it's a weird I love! The characters draw you in and you truly care for them and the storyline is just so freaking interesting and confusing all at the same time!
I liked but didn't love the sequel to The Raven Boys, The Dream Thieves. I think the storyline was important in the book but it was very confusing and I just loved The Raven Boys more.
This book was amazing. I feel like the storyline developed more and just made me want more! The characters grew so much in this book! While as The Dream Thieves was pretty much Ronan's book, this was Blue's book. We learn more about Blue and see her grow.
This is also Adam's book as well. I haven't always been a fan of Adam because he's a little much sometimes but I feel like he grew tremendously in this book. He is learning who he is and pretty much how Cabeswater wants to use him and I love it!
I feel like we are getting closer to finding Glendower and I love it! I just want more, more, more!
This book swept me up and didn't put me down until the end!
I loved the last 50+ pages and thought it was fast paced and just so interesting!

I love the new characters in this book as well! The Greenmantles were hilarious villains especially Piper. I didn't really see Piper as a threat until the end of the book, I just thought 'oh she's just that guys wife..no biggie' but she turns out to be INSTRUMENTAL in the ending- in a bad way!
Pick up this series. It's so unique and odd and just amazing that you will not put it down!
Maggie just writes so poetry and weaves the story like a beautiful spider!
I NEED THE LAST BOOK NOW!