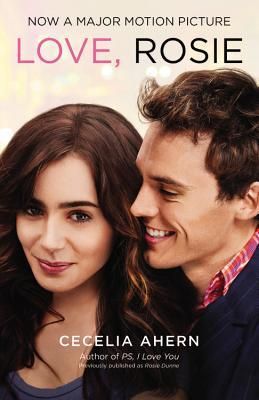 Love, Rosie
Release Date: October 22, 2014 (UK)
Starring: Lily Collins & Sam Clafin
Directed by: Christen Ditter
Screenplay by:
Juliette Towhidi
Based on the novel 'Where Rainbows End' by
Cecelia Ahern
Rosie and Alex have been best friends since they were 5, so they couldn't possibly be right for one another...or could they? When it comes to love, life and making the right choices, these two are their own worst enemies.
I have a written & video review based on the book which you can
check out here.
I honestly read the book because the movie was coming out. I think I would have read it eventually but the movie release amped it up a bit for me!
I go into book to movie adaptions honestly not expecting alot. I have been let down many time ( Beautiful Creatures, City of Bones, and more) so I just go into them not expecting anything especially with contemporary or chick lit book to movie adapations.
With Love, Rosie I knew from the get go the movie would be much different from the book. If you've read the book you know the whole book is told in email, letter and IM format so we never really get a full face to face conversation. Obviously the movie would have to have face to face convo and I was ok with that. It would be really hard to make a movie without real life interaction.
Overall I loved the movie. I thought it was a decent book to movie adapation. It changed a ton of stuff which was to be expected but there were some changes I didn't like. One of my favorite things about the book is both Rosie & Alex's relationships with their siblings. In the movie, Alex had a sister not a brother and Rosie had 2 younger brothers and not an older sister. I wish they wouldn't have changed that.
Also in the movie Alex didn't have any children, in the book he had 2. In the book Rosie married someone other than her daughter's father. So there were a ton of changes. Some of them I was ok with, some of them not.
The movie isn't really a good book to movie adaptation and I didn't expect it to be. I'm generally really easy going with contemporary book to movie adaptations because I feel the story is harder to tell then books such as The Hunger Games.
I think if I would have seen the movie without having read the book I would be head over heels in love with it. It's a cute indie film with good actors and it was funny.
Overall, I would give it:
1/2
I really liked it honestly but it just didn't fit the bill entirely as a book to movie adaptation.
What did you guys think?