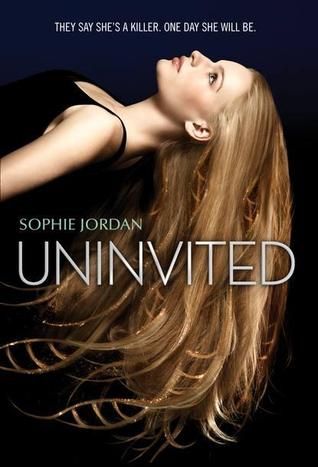 Uninvited

by Sophie Jordan
Series: Uninvited #1
Published by HarperTeen on Janusry 28, 2014
Genres: Science Fiction, Dystopian
Pages: 384
Source:
Buy the Book • Goodreads
When Davy Hamilton's tests come back positive for Homicidal Tendency Syndrome (HTS)-aka the kill gene-she loses everything. Her boyfriend ditches her, her parents are scared of her, and she can forget about her bright future at Juilliard. Davy doesn't feel any different, but genes don't lie. One day she will kill someone.

Only Sean, a fellow HTS carrier, can relate to her new life. Davy wants to trust him; maybe he's not as dangerous as he seems. Or maybe Davy is just as deadly.

The first in a two-book series, Uninvited tackles intriguing questions about free will, identity, and human nature. Steeped in New York Times bestselling author Sophie Jordan's trademark mix of gripping action and breathless romance, this suspenseful tale is perfect for fans of James Patterson, Michelle Hodkin, and Lisa McMann.
I've been wanting to read this book for forever and I'm glad I did!
I was intrigued by the plot of this book because it's all about a person's DNA.
Davy is living a normal life. She can play just about any instrument, had already been accepted into Julliard, had an amazing boyfriend and an awesome BFF; but that all changes when she learns she has HTS in her DNA.
The world in Uninvited is very similar to our own which is quite scary. There are mass shootings and violent acts everyone so the government decides to research everyone's DNA. What causes a person who is non violent to suddenly do a mass shooting? They begin testing people for HTS which really called the
Homicidal Tendency Syndrome.
It paints a scary picture doesn't it? Imagine living your life normally when all of a sudden you learn you have 'the kill gene'.
It def. changes for Davy. Her boyfriend and best friend abandon her.
Her best friend disgusted me really. She turned her back on Davy so fast once she learned she has HTS. It makes you ask the question, 'Are my friends truly me friends?'. Would they stick by me no matter what?
Davy in the beginning was annoying. She had it all and once she learned she had HTS she did become really whiny but it was understandable. She had to switch schools, be locked up with other HTS students and basically lose all human rights.
Once someone learns they have HTS, any dreams they had are gone. No one hires HTS carrier's for amazing jobs. They don't go to college, can't really be out in public and basically they are stripped of all their human rights. It's a lose lose situation.
This book was so interesting to read. I was captivated in the story. I will say it did move a little slow for me but I really really liked it.
Sean was also a very interesting character. He was a fellow HTS carrier and you could tell from the beginning Sean & Davy were into each other. I wish we had a little more back story to Sean because we didn't really find out to much about him.
Overall this book was awesome. I can't wait to read the next one ( it's going to be a dualogy!) which I've never read so I'm excited!