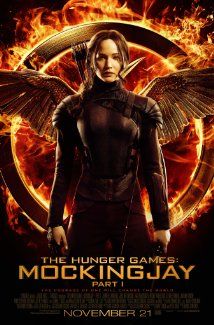 It's no secret I love The Hunger Games. I remember staying up until 1 A.M to finish the first book and I have fond memories of the rest of series.
I loved the first 2 movies with Catching Fire being my favorite. I mean what an amazing movie that was! So, so good!
I liked Mockingjay. The only real problem I have with it is that they are making it into two movies. I really don't see why they need to do it. Of course I think it's because Hollywood is trying to make as much money as they can & they know this is a successful franchise so why not. I just think it could have been made into 1 movie.
Other than that the movie was great. It was dark toned just like the book was. We got to see District 13 and meet President Coin and see the revolution happen which was awesome.
The movie was beautiful and gritty and ended in a place where if people haven't read the book would be insanely mad at. I can't wait for the 2nd movie....even though there shouldn't be one.
I also filmed a video review on the movie as well!