Guardians Of The Galaxy
Released On:
August 1, 2014
Starring:
Chris Pratt, Zoe Saldana, Dave Bautista, Vin Diesel and Bradley Cooper
Directed by:
James Gunn
Light years from Earth, 26 years after being abducted, Peter Quill finds himself the prime target of a manhunt after discovering an orb wanted by Ronan the Accuser.
As a fan of pretty much any Marvel movie, of course I was pumped for this one! Now Guardians of the Galaxy is one of the lesser known comics I believe so I was interested in how that would translate into a movie.
Fan-freaking-tastic!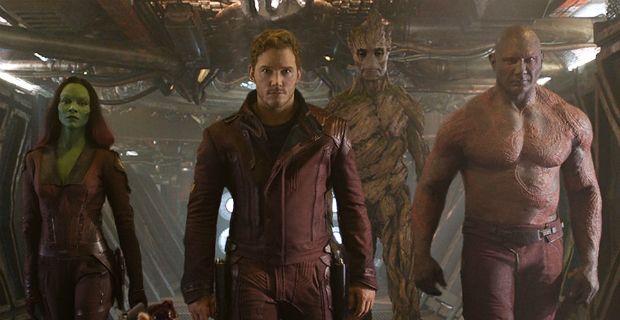 I will admit the beginning was a little confusing & I had a hard time keeping up but once the story got going...it got going! It was action packed and it was really filled with a lot of core values in my opinion! Not giving up, friends becoming family and fighting for the right thing...I loved all of that!
The actors were amazing in this movie as well! I am a huge fan of Parks & Rec so I was pumped to see Chris Pratt in this role! He did awesome & I can't wait to see him in more movies (Jurassic World anyone?!). Zoe Saldana is always great, that girl is just an awesome actress! I loved Bradley Cooper as Rocket, what an amazing comic relief!
I feel like most Marvel movies are very serious, as they should be because who said saving the world wasn't serious, but Guardians of the Galaxy was a little more comedic to me which I loved. This movie had me laughing left and right and I just couldn't get enough of it.
If you haven't seen this movie, what are you waiting for?!
Go see it!!
Now!!!