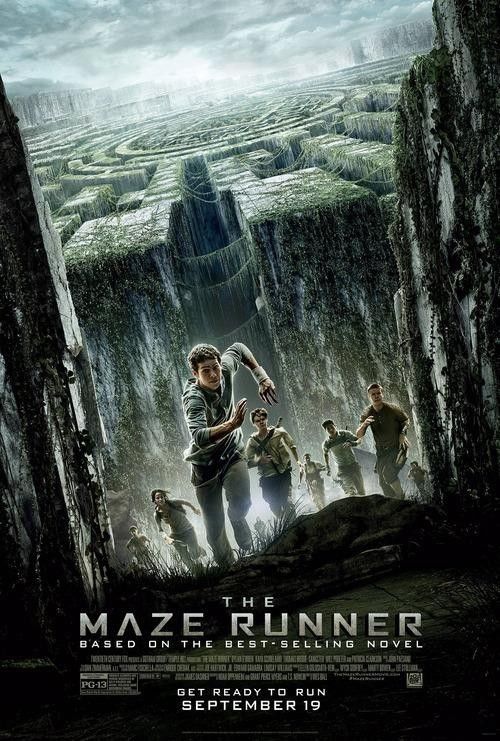 The Maze Runner


Directed by Wes Ball
Released on September 19, 2014
Starring:
Dylan O'Brien

,

Kaya Scodelario

,

Will Poulter
As with most book to movie adaptations, I go into it excited but not expecting to much. I've learned that if I go into the movie not expecting it to be super amazing I won't be let down as much.
The Maze Runner was a great book to movie adaptation!
Now I generally try to reread the book before I go see the movie but I honestly didn't have time to, I forgot ok? Never the less I hopped on Wikipedia to refresh my memory on all things Maze Runner & was pleasantly surprised about the movie!
The movie even began great! Thomas waking up in the box as it's going up...was just superb! I know this book isn't technically classified as a 'scary' book but let's get real folks, I get scared from just about anything! I forgot how suspenseful and scary this book was! With all the mysteries & the grievers I just loved every bit of it!
Like talk about taking my thoughts and putting them on screen! When I saw that maze and the Glade I was hooked.
I thought the acting was great. O' Brien did great as Thomas and the rest of the cast was good as well! I did only give it a rating of 4/5 because it did drag just a little but not to much.
I really hope they decide to make the second book into a movie because I do adore The Scorch Trials as well. Now for the last book, The Death Cure...I could do without.
The Maze Runner trilogy while yes, is really good is also really CONFUSING! With the last book I think all of us were expecting a ton of answers that I just don't think we got. I really love the first two books in the trilogy but the last one...I couldn't stand it!
It will be interesting if they decide to continue on with the movies and how The Death Cure will come into play because I def. don't think I'm the only one who really doesn't like that book.
If you saw The Maze Runner what did you think of it? Was it a faithful book to movie adaptation? What's your take?


BE SURE TO CHECK OUT MY (REALLY OLD) REVIEW ON THE MAZE RUNNER TRILOGY
AS WELL AS MY REACTION TO THE MAZE RUNNER TRAILER!