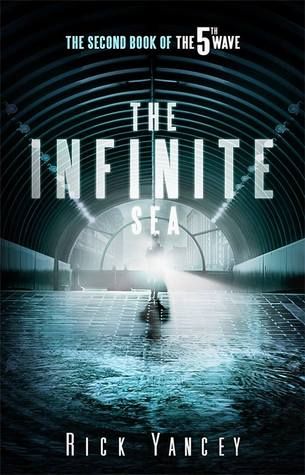 The Infinite Sea
by Rick Yancey
Published by
Puntnam on September 16, 2014
Genres:
Sci- Fi
Pages:
300
Source:
Buy the Book
•
Goodreads
How do you rid the Earth of seven billion humans? Rid the humans of their humanity.

Surviving the first four waves was nearly impossible. Now Cassie Sullivan finds herself in a new world, a world in which the fundamental trust that binds us together is gone. As the 5th Wave rolls across the landscape, Cassie, Ben, and Ringer are forced to confront the Others' ultimate goal: the extermination of the human race.

Cassie and her friends haven't seen the depths to which the Others will sink, nor have the Others seen the heights to which humanity will rise, in the ultimate battle between life and death, hope and despair, love and hate.
1/2
I was patiently waiting for this book all year. If your not new to my Youtube channel, then you will know how much I LOVED The 5th Wave. I thought it was amazingly written, creepy and I just fell in love hard with it. So it's safe to say I had huge expectations for the sequel.
It didn't meet them though to me.
The first problem I have with it is that it's 160 pages shorter than the first book. Granted the first book isn't an insanely long book, it clocks in at 460 pages but to have a sequel only 300 pages long? Not cool!
I felt like the first half of this book could have easily been a novella. There wasn't much that went on and it drug on for that matter. I loved reading Cassie & Evan's part but Ben was really annoying in this book. I just wanted to punch him quite honestly.
I was surprised about the POV's in this book. In the first book we do get mutiple POV's but mostly it's from Cassie. In this book I would say 70% of the book follows Ringer...which if I'm honest I didn't hate.
I didn't love at first that it was mainly Ringer's POV because I just wanted to read more Cassie..more Evan but I gotta say I liked the change of pace. Ringer's part in the whole book was the most interesting and it gripped me the most because the first half of the book was so ehhhh.
Ringer is a complex character. She is abrasive, tough and hard to read but man is she fun to read. I loved reading all her parts and her struggle in this book was REAL.
The last 50 pages kinda made up for this book but not completely. Like I said the first half of the book was just ok and I think could have been cut but the second half was pretty good!
I didn't hate this book by any means, I just thought it would be a tad more epic.
I am hoping the last book will be AMAZING & answer all of our many questions and just be rock solid.
Did you read The Infinite Sea? What did you think of it?