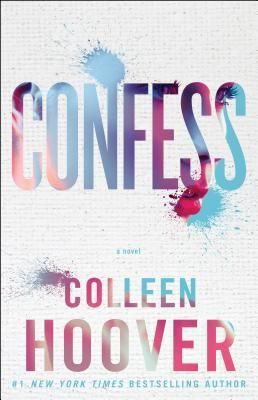 Confess by Colleen Hoover
Published by:
Atria Books
Genre: New Adult
Pages: 320
Links:
-Publisher
-Goodreads
-Buy The Book
-Was sent this book by the publisher for a honest review-
Auburn Reed has her entire life mapped out. Her goals are in sight and there's no room for mistakes. But when she walks into a Dallas art studio in search of a job, she doesn't expect to find a deep attraction to the enigmatic artist who works there, Owen Gentry.

For once, Auburn takes a risk and puts her heart in control, only to discover Owen is keeping major secrets from coming out. The magnitude of his past threatens to destroy everything important to Auburn, and the only way to get her life back on track is to cut Owen out of it.

The last thing Owen wants is to lose Auburn, but he can't seem to convince her that truth is sometimes as subjective as art. All he would have to do to save their relationship is confess. But in this case, the confession could be much more destructive than the actual sin
I really enjoyed this book. Both characters were very likeable. Auburn has had such a tough life. She lost someone she loves and it feels like she's losing someone else she loves very deeply. Owen has a similar path as well. Awful things have happened to him and he can't just seem to shake it.
When they meet sparks fly but Auburn learns she can't be with Owen without losing the person she loves most deeply.
There are just so many tough decisions in this book. I really felt for Auburn and her dilemma. It was horrible and I just wanted to hug her. She couldn't really do anything about her predicament without losing someone. Ugh the feels! Owen also had a tough time but I felt he could have done something about his situation.
I loved how Hoover ended the book with revealing how it really all began. I thought that was awesome.
Overall I really enjoyed the book! The romance is good, there is suspense in it and it's got art in it! I can see now why Colleen Hoover has such a huge fan base. She is an amazing writer!
This is apart of a blog tour! See below who's also in the blog tour!
GIVEAWAY!
VISIT ATRIA'S TUMBLR TO WIN A SIGNED COPY OF CONFESS!