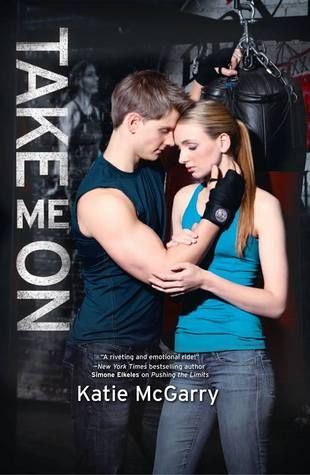 Take Me On
by Katie McGarry
Series:
Pushing the Limits #4
Published by
Harlequin TEEN on May 27, 2014
Genres:
Contemporary
Pages:
544
Source:
*Was sent this book for an honest review
Buy the Book
•
Goodreads
Champion kickboxer Haley swore she'd never set foot in the ring again after one tragic night. But then the guy she can't stop thinking about accepts a mixed martial arts fight in her honor. Suddenly, Haley has to train West Young. All attitude, West is everything Haley promised herself she'd stay away from. Yet he won't last five seconds in the ring without her help.

West is keeping a big secret from Haley. About who he really is. But helping her-fighting for her-is a shot at redemption. Especially since it's his fault his family is falling apart. He can't change the past, but maybe he can change Haley's future.

Hayley and West have agreed to keep their relationship strictly in the ring. But as an unexpected bond forms between them and attraction mocks their best intentions, they'll face their darkest fears and discover love is worth fighting for.
I am a huge fan of Katie McGarry & this series. I LOVED Pushing the Limits, liked Dare you to & fell in LOVE with Crash into you. So I had very high hopes for her 4th installment in this series.
Overall, I really liked this book. I will say it is not my favorite in the series. I think it's going to take alot to beat Crash Into You for me honestly. With this book I went into it already kind of not liking one of the characters which was West. If you've read the 3rd book in this series then you know West was quite a jerk in it so he had to redeem himself a ton!
I thought West redeemed himself in this book & I really enjoyed reading about him and his journey. I have always loved reading about the Young family and their dynamic and flaws. There was a 'huge' secret in this book that you are waiting for and when the secret was finally revealed I wasn't that shocked honestly.
Now let's talk about the other main character Haley. I liked Haley but didn't really connect with her. Haley is a kickboxer and is known for fighting and being strong but in most of this book I found her to be very weak and not willing to put up a fight. Now don't get me wrong the situations this girl went through were absolutely horrible but I just wanted her to realize sooner that she needed to fight and be strong.
Like I said, overall I liked this book. I will say my favorites in the series are the 3rd, 1st, this one and then the 2nd. Katie McGarry knows how to write some awesome, steamy romance and very relatable characters. This series will always be one of my favorite contemporary series and I do recommend you pick this book up!