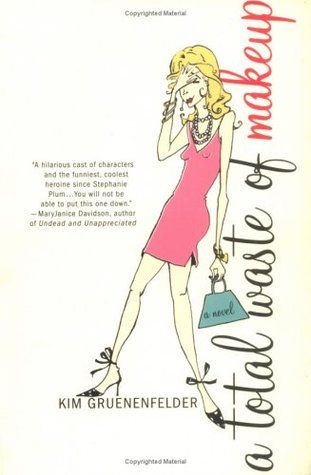 A Total Waste ff Makeup
by Kim Gruenenfelder
Published by
St. Martins Griffin on December 27, 2005
Genres:
Chick Lit
Pages:
384
Charlize "Charlie" Edwards certainly knows, in theory, what it takes to lead a successful and happy life. She owns a nice house in Silverlake, LA's trendiest neighborhood. She has glamorous and loyal friends who accompany her to the hottest clubs in town. And she works as the personal assistant to Drew Stanton, Hollywood's sexiest movie star. But she's also turning 30, chronically single, and faced with serving as maid of honor at her younger sister's wedding. Charlie finds herself struggling to juggle the chaos of wedding planning (while wondering if she'll ever wear the white dress herself), her all-consuming job for lunatic boss Stanton, and a serious crush on Jordan, a photographer on the set of Drew's latest feature--a man who might actually return her feelings. A page-turner from start to finish, A Total Waste of Makeup puts a fresh face on women's fiction.
I read this book on a whim and enjoyed it. It's a fast read and very light hearted. I didn't love it though. I didn't connect with any of the characters nor really felt for them really at all.
I will say I enjoyed the main character, Charlie. She was a very likable character but like I said I didn't love or connect with her.
Overall this book was ok. I didn't go into expecting a whole lot. I'd say if your looking for a light hearted, quick read then definitely pick this up.