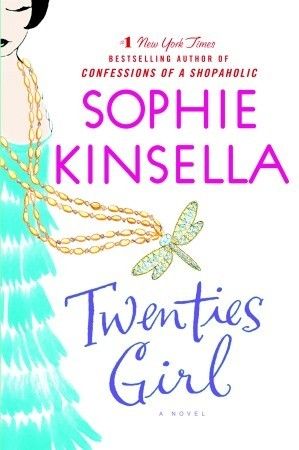 Twenties Girl
by Sophie Kinsella
Published by
The Dial Press on January 1, 2009
Genres:
Chick-Lit
Pages:
435
Format:
Audiobook
Lara Lington has always had an overactive imagination, but suddenly that imagination seems to be in overdrive. Normal professional twenty-something young women don't get visited by ghosts. Or do they?

When the spirit of Lara's great-aunt Sadie—a feisty, demanding girl with firm ideas about fashion, love, and the right way to dance—mysteriously appears, she has one request: Lara must find a missing necklace that had been in Sadie's possession for more than seventy-five years, because Sadie cannot rest without it.

Lara and Sadie make a hilarious sparring duo, and at first it seems as though they have nothing in common. But as the mission to find Sadie's necklace leads to intrigue and a new romance for Lara, these very different "twenties" girls learn some surprising truths from and about each other. Written with all the irrepressible charm and humor that have made Sophie Kinsella's books beloved by millions, Twenties Girl is also a deeply moving testament to the transcendent bonds of friendship and family.
This is my 6th Sophie Kinsella book I have read. It is the 3rd that I have listened to of hers as well. I gotta say I love audiobooks. They are easy to pour yourself into and convenient to listen to in the car. Any chance I can listen to a Sophie Kinsella book I hop on it!
I loved this book, of course I did! I love Sophie Kinsella, she is hands down my favorite chick-lit author. Twenties Girl is quite different than her other novels. Her other novels are more about romance and etc but Twenties Girl was all about family and friendship. It had romance weaved into it, which I adored but I loved the family aspect of this book.
Lara was a very likable character and I loved watching her grow and become more independent. Now Sadie on the other hand..I don't know if it was because I listened to the book but Sadie was quite annoying in this novel. I liked Sadie overall but man when she yelled, it was quite shill and quite annoying.
She was also very pushy and rude and in time that did fade and you began to love her but she was a hard character to like from the get go. I loved the romance in this book. It wasn't the main focal point but rather a cute little side story that made you swoon.
Overall I highly enjoyed this book. My all time favorite Sophie Kinsella series will always be I've Got Your Number and after that her Shopaholic series but this one defiantly falls in after that.
If your looking for a cute novel all about family, the 20's and a little romance this book is for you!