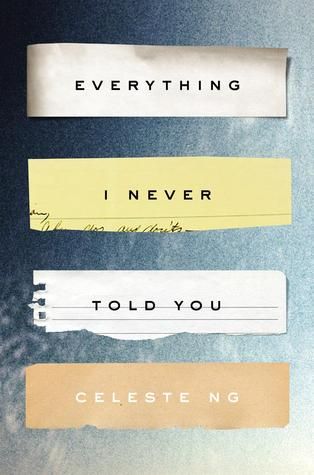 Everything I Never Told You
by Celeste NG
Published by
Penguin Press on June 26, 2014
Genres:
Mystery
Pages:
304
Source:
Was sent to me for a honest review by Penguin
Lydia is dead. But they don't know this yet . . . So begins the story of this exquisite debut novel, about a Chinese American family living in 1970s small-town Ohio. Lydia is the favorite child of Marilyn and James Lee; their middle daughter, a girl who inherited her mother's bright blue eyes and her father's jet-black hair. Her parents are determined that Lydia will fulfill the dreams they were unable to pursue—in Marilyn's case that her daughter become a doctor rather than a homemaker, in James's case that Lydia be popular at school, a girl with a busy social life and the center of every party.

When Lydia's body is found in the local lake, the delicate balancing act that has been keeping the Lee family together tumbles into chaos, forcing them to confront the long-kept secrets that have been slowly pulling them apart. James, consumed by guilt, sets out on a reckless path that may destroy his marriage. Marilyn, devastated and vengeful, is determined to find a responsible party, no matter what the cost. Lydia's older brother, Nathan, is certain that the neighborhood bad boy Jack is somehow involved. But it's the youngest of the family—Hannah—who observes far more than anyone realizes and who may be the only one who knows the truth about what happened.
I went into this book not knowing alot. I knew it was a mystery & that intrigued me because I don't read a ton of mystery. I am so glad I read this one!
This book is more than the death of a daughter. It's about a highly dysfunctional family that doesn't how to communicate. In fact we see Lydia never much alive throughout this book because the book is told from different points of time and through different people's point of views.
The Lee family is anything but happy. I loved reading about how the parents got together and even about their lives before the met each other. It shows how the decisions of the parents affected all of their children's lives.
This book delves into racial status amazingly. It takes place in 1970's and the family is Chinese American. The father was born in America but is 100% Chinese. Then you have the mother who is the picture of an American girl. The book shows how hard it was for this family to be in society and how the parents want two different things.
I cannot get over how good this book was. Yes it was a mystery and throughout the book you are wondering 'How did Lydia die?' but it's so much more than that. It's all about the secrets and building up of each member of the family and...THE THINGS I NEVER TOLD YOU.
Everyone in the family had so many secrets, so many pent up feelings and no one knew how to express them. No one spoke up.
The writing in this book was beautiful. The author weaves in different time periods and different perspectives flawlessly. You get invested in each one of the character's life and want to know more, more and more.
I will say this book is a definite must read. It will make you think, it will make you look at your life and analyze it.