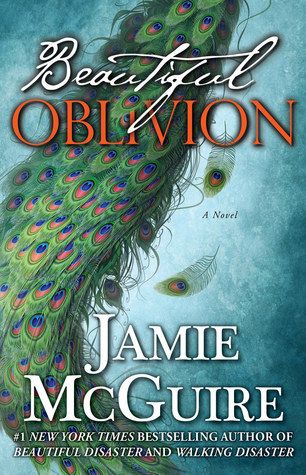 Beautiful Oblivion by Jamie McGuire
Published by
Atria Books
on July 1st, 2014
Genres:
New Adult, Contemporary
Pages:
337
Format:
Was sent for review for honest feedback
Source:
Buy the Book
•
Goodreads
Fiercely independent Camille "Cami" Camlin gladly moved on from her childhood before it was over. She has held down a job since before she could drive, and moved into her own apartment after her freshman year of college. Now tending bar at The Red Door, Cami doesn't have time for much else besides work and classes, until a trip to see her boyfriend is cancelled, leaving her with a first weekend off in almost a year.
Trenton Maddox was the king of Eastern State University, dating co-eds before he even graduated high school. His friends wanted to be him, and women wanted to tame him, but after a tragic accident turned his world upside down, Trenton leaves campus to come to grips with the crushing guilt.
Eighteen months later, Trenton is living at home with his widower father, and works full-time at a local tattoo parlor to help with the bills. Just when he thinks his life is returning to normal, he notices Cami sitting alone at a table at The Red.
As the baby sister of four rowdy brothers, Cami believes she'll have no problem keeping her new friendship with Trenton Maddox strictly platonic. But when a Maddox boy falls in love, he loves forever—even if she is the only reason their already broken family could fall apart.
I've read Jamie McGuire's first & second book in the series where it follows Travis's & Abby's story and I must say I liked this one better. I think the main reason for that is because both of the characters were more mature. Travis was a bit immature and just had a temper problem where as Trenton is a little bit older so I feel like he was more mature.
The whole 'mystery' in this book didn't really shock me I will say. I don't know why Cammie waited so long or made it such a huge deal. Ok, it was kind of a big deal but if it were me, I would rather confront the problem/situation upfront and fast instead of letting it linger like she did.
I enjoyed both characters & reading about their relationship. I will give it to McGuire, she can write some steamy, good relationships.
I did not really enjoy the ending though. I wouldn't say it left on a cliffhanger but rather a WTH type of moment? Like really...leave it off like that?
Overall if your looking for a quick, steamy read pick this series up. The characters are very blunt and use a ton of foul language but if you can get past that..pick the series up!